Since 2015, around 4.8 million Venezuelans have fled from their country to Colombia, Chile, Peru, Ecuador, and other areas in Latin America and the Carribean (Grattan). These migrants are facing widespread xenophobia and the opportunities available to them in other nations are purposely limited. For instance, individuals such as Adriana Aldana, a 34-year-old Venezuelan mother of three, was verbally abused for being Venezuelan by her boss at her former restaurant job in Colombia (Grattan). Her situation is just one instance of the mistreatment Venezuelan migrants face in other nations.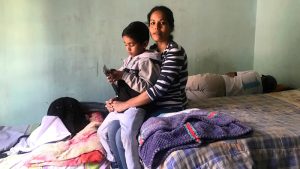 Since migration has continued to increase, nations have placed tighter restrictions on allowing Venezuelans into their borders. For example, Visa requirements have been placed by Trinidad and Tobago, Chile, Peru and Ecuador and seven nations have also placed passport requirements (Barajas). Also, xenophobia toward Venezuelans has become more violent. For instance, it has been revealed that between 2017-2019, the Colombian-Venezuelan border had witnessed 378 migrant deaths (Barajas). Individuals from host countries are against welcoming migrants because of the jobs and opportunities they take away from the already struggling domestic working classes (Grattan). As a result of the continued xenophobia faced by Venezuelan migrants, measures have been taken to promote a more welcoming environment in host countries toward Venezuelans. Specifically, the UNHCR established a campaign called "Somos panas" (We're mates) to encourage Colombians to aid and welcome Venezuelan migrants the same way Venezuelans helped and welcomed Colombian migrants during their refugee crisis (Barajas). Regardless, the struggles endured by Venezuelan migrants continue to persist as more Venezuelans continue to flee the country.
In the article from The New Humanitarian, the author places great focus on telling the personal stories of Venezuelan migrants who have endured struggles in host countries. This approach effectively serves to more deeply humanize the migrants and condemn the individuals in host nations who have mistreated them. Also, while the article from the Los Angeles Times does admit that migrants have been poorly treated, it places more focus on how the increase in the flow of migrants has created a greater burden on host countries. Additionally, the article from the Los Angeles Times also explains in more detail the restrictions implemented by host countries against migrants.
Moreover, the articles relate to our course themes and readings specifically in relation to the issues with poverty in Latin America discussed in John Charles Chasteen's Born in Blood and Fire. For instance, the concerns from host countries' impoverished working classes against migrants' acquisition of local jobs and opportunities reflect the widespread economic poverty in Latin America discussed by Chasteen (Chasteen 6). Additionally, the "Somos panas" initiative is similar to the Nativist use of the word "Americanos" during the independence era because both terms were used to foster unity among separate populations for the sake of cooperation (Chasteen 107).
Works Cited
Barajas, Julia. 2020. "Fewer Options Abroad for Fleeing Venezuelans." Los Angeles Times. https://www.latimes.com/world-nation/story/2020-02-12/fewer-options-abroad-for-fleeing-venezuelans (February 14, 2020).
Chasteen, John Charles. 2016. Born in Blood and Fire: A Concise History of Latin America. 4th ed. New York: W.W. Norton.
Grattan, Steven. 2020. "Venezuelan Migrants Face Rising Xenophobia in Latin America." The New Humanitarian. https://www.thenewhumanitarian.org/news-feature/2020/02/13/Venezuelan-migrants-xenophobia-Latin-America (February 14, 2020).