Learn how Wooster alumna Sarah Coffin's career took a different path than planned, how she's overcome being a young female in a male dominate industry, and how she's moving her career forward.
Tuesday, February 4, 2020
6:30 p.m. in APEX, Gault Library
Please RSVP here!
Sarah Coffin graduated from The College of Wooster in 2010 and attended the Steele Internship Program at the National Baseball Hall of Fame, obtained a master's degree in Museum Studies from Harvard University, and is the Curator at the Boston Red Sox.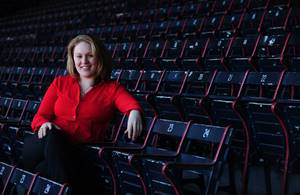 Sarah's primary job is preserving the history of the Boston Red Sox and Fenway Park. This includes caring for over 200,000 artifacts and images, creating exhibits, and supporting historical research. As a member of the team's community relations team, Sarah also leads all of the team's senior programing focusing on those who can no longer come to Fenway Park but whose memories and love of the Red Sox remain. Her latest partnership has included creating programing with the Alzheimer Association for those with various levels of memory impairment.